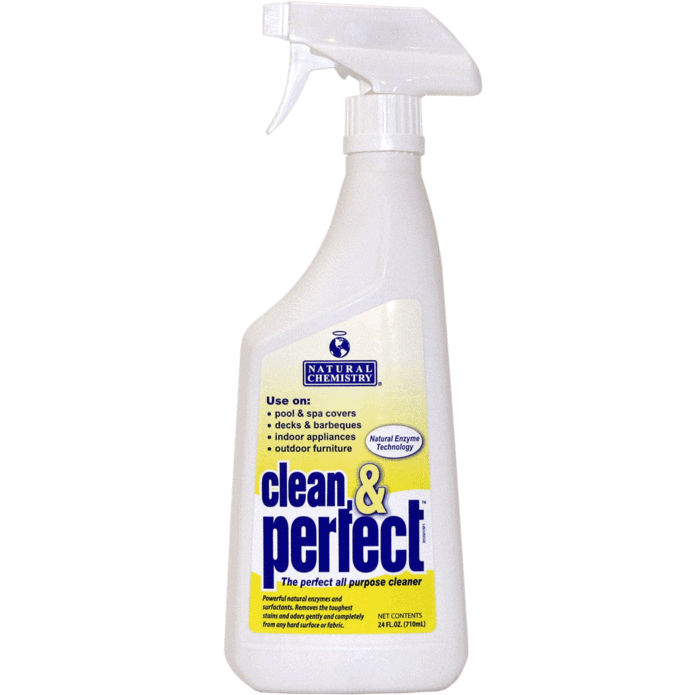 Natural Chemistry Clean and Perfect
$13.95 — or subscribe and save 10%
The World's Greatest Cleaner! Clean & Perfect is an enzyme-based product that is formulated for use on indoor/outdoor hard surfaces. It is safe for use on plastic, cement, ceramic, stone, vehicle interior/exterior, areas around the pool, etc.
NOTE: Test a small area for colorfastness before using.
Features/Benefits
For use on all hard surfaces such as vinyl, pool covers, spa acrylic, spa covers, decks, garbage containers, skimmers, outdoor furniture, barbecues, tile flooring – the uses are endless!
Removes grease, grime, soot, residue from mildew, waterline rings, leaf stains, pet stains, and dead insects
Eliminates the strongest non-living organic odours on contact, even perspiration and pet accidents
Clean & Perfect is environmentally better and biodegradable. It contains no petroleum surfactants
Tips & Info
Strong and effective….you can allow the product to sit for over 5 minutes without causing harm to the surfaces.
Must test for colorfastness before using the product on vinyl liners.
It May be used on carpet and fabrics (must check for colorfastness first).
The Colour is an amber liquid.
Odour is a natural ingredient and not added perfumes.