If you own a hot tub, you want to be sure you have some of the best hot tub accessories to make the experience that much better.
Here are ten of the top hot tub accessories you may want to add to your backyard oasis.
Top 10 Backyard Hot Tub Accessories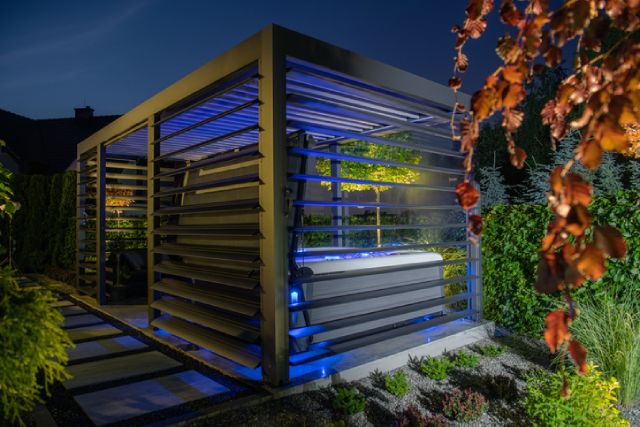 1. A Cover Lift
If you don't have a hot tub cover lift, you may want to invest in one. These automatic devices make opening and closing your hot tub as simple as pushing a button.
It's definitely easier than manually working with the cover every time you want to use your hot tub.
2. A Non-Slip Pillow
These pillows are designed to grip the back of the hot tub, giving you maximum comfort without slipping down.
If you lay back in the hot tub regularly, especially if you use it to soothe aching muscles, having a pillow can help.
3. Aromatherapy Scents
Engage your sense of smell by adding aromatherapy fragrances to your hot tub.
Just make certain that the products you are using are designed for hot tubs.
If they aren't, they may clog up your filters or cause other issues.
4. A Sound System
Whether you install a sound system near your hot tub or use Bluetooth speakers, adding music is yet another way of engaging the senses.
You can even add a floating Bluetooth speaker to your hot tub.
5. Lights
Lights for your hot tub, like speakers, come in a number of different options.
You can hang lights around the area, or you can get floating or even submergible lights to add color to the hot tub water itself.
6. A Water Level Sensor
By installing one of these little sensors in your hot tub, you'll be able to monitor the water level and add more as needed.
Some hot tubs have these installed already, but older models may not.
These sensors also send the information to your phone, so you can look at it whenever you want.
7. Traction Steps
Getting up and into your hot tub may not be easy, especially if you have knee issues.
Spa steps are designed to make the process easier since you don't have to climb up over the side.
Just be sure to get a set that provides traction, so you don't slip.
8. An Umbrella
Many people use the hot tub in the evening to help them unwind and relax, but there's nothing that says you can't use it earlier in the day.
If you do, though, you may want to invest in an umbrella to keep from getting sunburnt.
9. A Floating Table
Want to enjoy some snacks or beverages while in the hot tub? A floating table can keep your food and drinks conveniently nearby.
10. A Warming Towel Rack
Getting out of the hot tub can be the worst—the air hits your skin and makes you shiver. A warming towel rack can help with that.
They keep your towels up off the ground and warm them up!
Browse Our Hot Tub Accessories
Jacuzzi Hot Tubs of Calgary provides the best hot tubs and hot tub accessories in the area.
Check out our blog or give us a call today to learn more about what we have available or visit our showroom in Calgary.