A hot tub isn't just a place to unwind and relax, it's an investment into your quality of life. Hot tubs offer a variety of hot tub benefits that affect many aspects of daily life.
From increased mobility and soothed joints, to backyard entertainment for the entire family, hot tubs can truly have a positive impact on your life.
Top 4 Hot Tub Benefits of Using a Hot Tub Regularly
Let's take a look at the best hot tub benefits of using a hot tub regularly.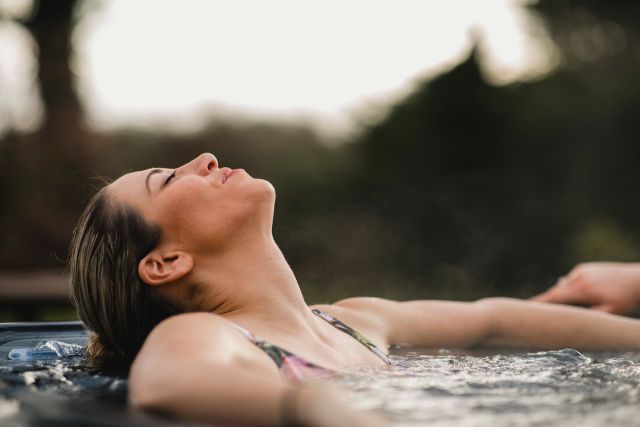 1. Physical Health Improvements
Relaxing regularly inside a Jacuzzi® Hot Tub can help to improve your physical health. A water-based technique called hydrotherapy is popularly used by physiotherapists worldwide. It all begins with the immense relief your body feels as you slip into the heat of the jet-infused water. It can be simply invigorating, especially if your muscles are particularly tense or sore.
Once you begin to relax, the pressure from the jets can start to really soothe your joints and relieve any further tension from your muscles. The buoyancy of the water, combined with the warm temperature and jet-driven water, works to help your body to heal and rejuvenate. This technique is also popularly used to help athletes heal muscle and joint injuries at a more rapid rate.
To learn more about the many physical hot tub benefits of Jacuzzi® Hot Tubs, stop by Jacuzzi® Hot Tubs of Calgary today.
2. Stress-Relief and Relaxation
Your stress will begin to fade away once your body has a chance to benefit from the healing properties of crystal-clear water. It can be truly invigorating to spend time by yourself in the solitude of your backyard oasis, while your Jacuzzi® Hot Tub works to soothe your body. A Jacuzzi® Hot Tub can provide you with the opportunity not only to feel better but let your mind unwind as well.
Routine hydrotherapy sessions can help to improve your sleep patterns and relieve stress. The heat of the hot tub water can help to increase circulation, and encourage a better flow of endorphins.
These endorphins can help to improve your sleep patterns, reduce feelings of anxiety and relieve stress. The jets featured in Jacuzzi® Hot Tubs are designed to target certain muscles that help to ease tension and promote relaxation.
3. Enhanced Social Life
Jacuzzi® Hot Tubs are well-known around the world for their hot tub benefits and overall exceptional experience. A hot tub can quickly become the preferred source of entertainment for you and your loved ones. You can spend countless hours creating valuable memories with family and friends while at the same time feeling comfortable and relaxed.
It can be difficult for families and friends to spend quality time together without the distractions of modern technology. A hot tub can provide the perfect escape from mobile devices and other means of technology. Spending quality time away from technology with your family and friends has never felt so simple.
4. A Backyard Oasis
The addition of a Jacuzzi® Hot Tub can encourage creativity, and inspire you to make some improvements in your Calgary backyard. A complete hot tub installation can highlight the beautiful features of your backyard, and allow you to make further adjustments.
You can improve your backyard and complete your hot tub installation with:
Outdoor furniture

A smoker or BBQ

Flowers

Water features

A fire pit

Colourful accessories
Your backyard retreat can quickly become your main source of entertainment. You might become more motivated to host social gatherings or simply invite loved ones over to spend some quality time, basking in the ambiance of your backyard getaway.
Hot Tubs for Sale in Calgary
If you would like to explore more of the hot tub benefits that hot tubs have to offer, contact the experts at Jacuzzi® Hot Tubs of Calgary today.
Our team of dedicated experts can help you to learn more about Jacuzzi® Hot Tubs and even find your dream spa