No matter the size of your spa, there are ample benefits you can enjoy from a quality session under the water, from reduced pain, lower stress levels, and even improved mobility!
Everyone's needs are different, and when it comes to choosing the size of your spa, various factors come into play.
Whether you have a small family, are working within a tight space, or simply want to create the ultimate intimate atmosphere, a 4-person hot tub is the perfect solution.
If you're in the market for a hot tub and want to find the perfect model for you and your family, this article has everything you need.
Below, you'll learn how to choose the right 4-person hot tub and three of the best options on the market.
You'll also discover two 3-person hot tubs to consider if you're looking for something with some alternative features.
How To Choose The Right 4-Person Hot Tub
Hot tubs come in various styles, and it can be difficult to choose between all the different designs and features.
To make this easier for you, here are five things to consider before you begin shopping that will make it easier to narrow down your options and ensure you invest in one you'll love.
1. Assess Your Needs and Preferences
This is possibly one of the most influential factors when choosing your hot tub.
Hot tubs are a therapeutic, luxury investment, and knowing what it is you hope to gain by adding one to your backyard will help you narrow down your choices.
One way to help you with this is to consider what you would be using your hot tub for and why you want one.
Is it to socialize?
Do you want to target your chronic pain?
Are you trying to upgrade your self-care routine by adding some "me" time into your day-to-day life?
Whatever your goal is, your hot tub will need to be able to meet that!
Once you've gotten clear on how you want to use your spa, you'll be able to consider what you'd need to meet those needs.
Maybe you need a model with a lounger or one that includes jets that target your upper shoulders.
Knowing what you need will help you find the models that are designed to meet your unique needs.
2. Consider Your Budget and Space Constraints
The amount of space you're working with will also play a significant role in the hot tub you choose.
If you have a smaller backyard, you'll want to know what size hot tub would complement your space without feeling overbearing.
The best thing to do before looking at various models is to measure your space and decide the size of hot tub that would fit best.
Additionally, your budget will play a role in which hot tub you buy.
Having a solid number in mind when exploring the various hot tubs on the market will help narrow down your selection.
3. Know Your "Must-Have" Features
Much like the jet configurations mentioned above, there are various other features to consider that may influence which hot tub you'd most enjoy.
Some of these features are for aesthetics, while others are functional, supporting your hot tub's maintenance needs day to day.
Some features you may want to consider include:
Water management system
Water features (such as waterfalls)
Filtration systems
Lounge vs open seating
Specialty massage pillows
LED lighting
While not all features will appeal to you, others may be a necessity.
For example, if you live a busy life and require a hot tub that has systems in place to minimize the work needed to maintain its water, an advanced water management and filtration system should be high on your priority list.
4. Do Your Research
With the simple fact that you've landed on this page, it's clear you're already working on this step.
Research is key and will help you narrow down your options and get a good idea of what it is you're looking for and what you need.
This could include researching various brands, models, features and prices.
With the amount of information online, you can easily get a solid understanding of what a hot tub might cost, the maintenance requirements to consider, and which models are leading the industry standard.
All these factors can help you gain a strong understanding of what you're looking for and exactly where you can get it.
5. Explore Hot Tub Dealers Near You
While doing your research, finding your local hot tub dealers will be an essential step.
This will help you get a thorough understanding of the brands your local dealers stock and give you a good starting point.
Your hot tub dealer is important, and they'll be supporting you long after you've invested in your spa and had it installed.
For this reason, you'll want to be sure you're choosing the best one when it comes time to buy.
The best way to do this is to explore their website to get to know them, review the models they stock, and read the reviews on their Google business profile.
Some things to look for when choosing your hot tub dealer include:
Experience
Location
Brands
Reviews, testimonials, and the company's responses
Available online resources
Service options
This will help you find the most reliable and reputable dealers in your area to partner with for your purchase.
Jacuzzi®️ Hot Tubs – The Best 4-Person Hot Tubs for 2023
Now that you know how to set yourself up for success, and are clearly interested in 4 person hot tubs, let's explore some of the best options on the market.
In this article, we'll be focusing on Jacuzzi®️ Hot Tubs, an industry leader and the brand that started it all!
Furthermore, you'll also find two stunning 3-person hot tubs further below that offer an alternative experience than you would find in these 4-person models.
Let's get started!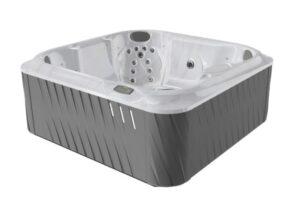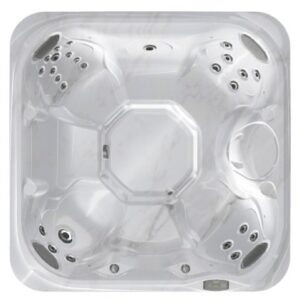 J-225™️
The J-225™️ hot tub is an affordable 4 person hot tub that's been designed to make luxury more affordable.
With its stunning open seating and various jet configurations, this model makes it easy for you to target every muscle from your hips to your neck.
This Jacuzzi®️ Hot Tub has been elegantly designed to include LED lighting in both the interior and exterior, making it easy to illuminate your backyard each time you step into the water.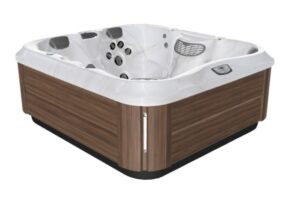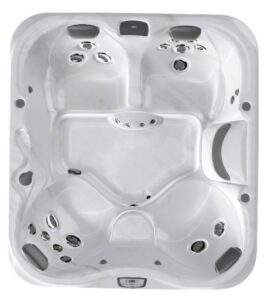 J-325™️
This 4-person hot tub is the ultimate addition to any backyard.
With its stunning ProFinish™️ Cabinet with corner lighting, the J-325™️ hot tub will leave guests speechless.
Outfitted with four different seats, all lined with various PowerPro®️ FX Jets, you're entire upper body will experience a luxurious hydromassage each time you step into the water.
To make this model even more alluring, it's been thoughtfully designed to make water care a breeze.
With ProClear®️ filters and the CLEARRAY®️ Active Oxygen™️ System, keeping your water crystal clear will be simple and require fewer chemicals, keeping your water both cleaner and safer, 365 days a year.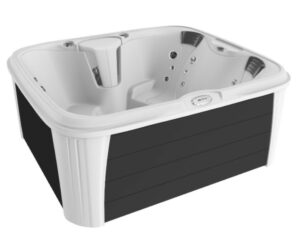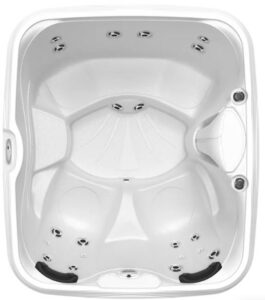 Mood™️
The Mood™️ is a model from the Jacuzzi®️ Play™️ Collection and is the most affordable 4-person hot tub on this list.
With its user-friendly digital control panel, managing the various features of your hot tub will be effortless.
To make this model stand apart from others, it includes bench-style seating along one side, ensuring you can enjoy side-by-side massages with your favourite person as you recover after a long day.
3-Person Hot Tubs
If you want a lounger and are willing to give up an upright seat to get it, there are two 3-person hot tubs that would easily meet your needs.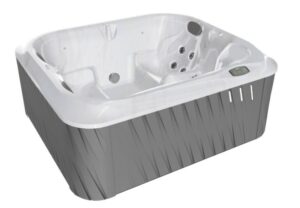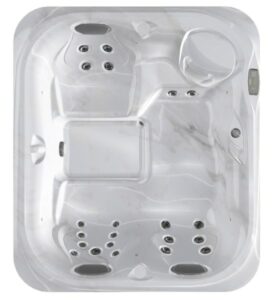 J-215™️
This 3-person hot tub includes both upright seats as well as a lounger tucked alongside one corner.
Lean back and enjoy a targeted massage to your back, or treat your feet to a soothing hydromassage by settling into the comfortable lounger.
The J-215™️ hot tub is making water care simple with 2-stage filtration and the CLEARRAY®️ water management system.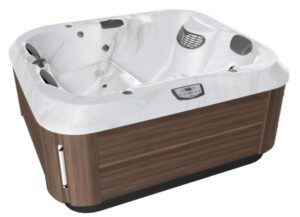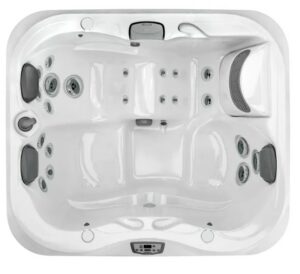 J-315™️
A step above the J-215™️ hot tub, this model boasts additional jets to bring your full body massage even further.
The lounger in the J-315™️ hot tub includes precision jets lining the entire length, targeting every muscle from your neck to your feet.
Outfitted with the HydroSoothe™️ Massage pillow, relaxing jets will massage your neck while soothing water trickles down to cascade over your shoulders.
Enhance your spa session by turning on the illuminated waterfall, embracing the effects of chromotherapy while the ambient sounds of flowing water whisk you away.
4-Person Hot Tubs in Calgary
If your interest was piqued upon reading one of the five descriptions above, and you're ready to get more information or explore one of them in person, the experts at Jacuzzi Hot Tubs Of Calgary can help.
Our showroom is stocked with various models, from small units like the J-315™️ hot tub to large ones fit for an entire family, like the J-495™️ hot tub that seats nine!
Visit us in-store, or contact us to learn more.
We'd love to make your backyard dreams a reality.