Between working full-time, keeping up with social commitments, and even taking care of a family, it's easy to lose yourself among the other priorities.
But this can result in feelings of stress and exhaustion, which is why it's so important to take time out of your busy schedule for self-care, stress relief, and relaxation.
Now to some, the idea of self-care might sound silly but in reality, it works wonders on your physical, emotional, and mental health. While self-care can reduce stress and anxiety, it can also improve concentration, boost energy, and increase overall happiness.
The self-care that works for your friends and family might not work for you as it is something that should be specifically tailored to what brings you peace and joy.
For many people, self-care looks like reading a book in the backyard, baking a batch of warm chocolate chip cookies, going for a hike in the forest, or even ordering sushi and watching Netflix. There are countless correct ways to participate in self-care.
At Jacuzzi Hot Tubs of Calgary, we understand just how crucial taking the time for self-care, stress relief, and relaxation is. Our favourite form of self-care is hopping into a hot tub with a glass of wine in one hand and a good book in the other.
To help others fine-tune their self-care practices, we've created a list of 15 things you can do inside and outside of[ your hot tub and swim spa that will replace your feelings of stress with feelings of pure contentment.
The Top 15 Ways to Reduce Stress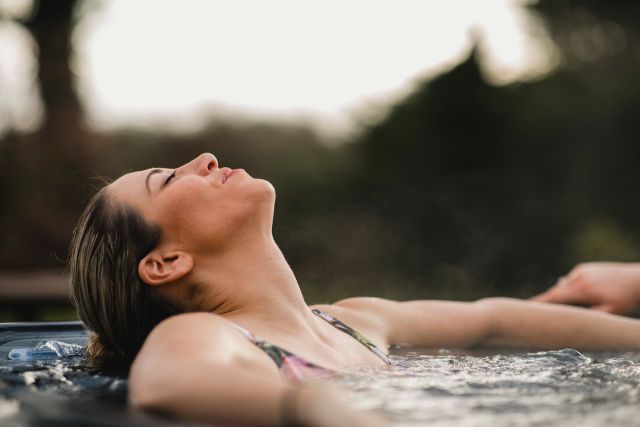 1. Listen to a Podcast
When it comes to podcasts, there's a genre that appeals to virtually everyone. Whether you like to listen to comedy, political, murder, celebrity, or sports podcasts, playing one on your phone as you relax in your hot tub or swim spa is a one-of-a-kind experience.
Not only are you leaning into relaxation but you'll also learn something or have a few laughs at the same time. But since most podcasts are around one-hour long, remember to be mindful of how long you've been sitting in the hot tub.
2. Read a Book
Getting lost in an entertaining, thought-provoking book is a great way to escape your hectic reality for a few hours at a time. Some health experts have reported that reading reduces stress and can even prevent specific forms of dementia, which is why reading should be a form of self-care practiced by all.
So grab your book, slip into your bathing suit, and slide into your hot tub.
Of course, be careful that you don't get so relaxed that you drop the book into the water. This would be devastating and would do the exact opposite of what you're trying to achieve through self-care and stress relief. We recommend reading A House in the Sky by Alberta-based Amanda Lindhout and Sara Corbett.
You won't be able to put this novel down.
3. Enjoy Spa-Friendly Aromatherapy
Putting essential oils directly into your hot tub or swim spa is not recommended but there is another way you can reap the benefits of aromatherapy from your spa. Purchase a diffuser and then dilute your essential oils with water before you turn it on.
Certain essential oils promote relaxation, like lavender, lemon, bergamot orange, rose, clary sage, ylang-ylang, and chamomile. You can also buy specific blends of these oils that are created for relaxation purposes or to promote restful sleep.
For more information on stress relief and hot tub aromatherapy, check out our blog post "What Is Hot Tub Aromatherapy?"
4. Get Moving
Even the simplest of physical activity can provide you with some serious health benefits. Not only can it help to improve your cardiovascular health, but it can also reduce your risk of heart disease, help you maintain a healthy weight, is easy on your joints, and can improve your mood.
After going for a 30-minute stroll around your neighborhood or through a nearby forest, decompress in your hot tub for the optimal self-care experience.
5. Baking to Relieve Stress
Even though cooking and baking might seem like a nightmare for some, following and executing a recipe can be very gratifying for others.
Plus, you get a scrumptious treat as a reward. Instead of swinging by the nearby grocery store for an average-tasting bundt cake, try to make your own. It'll taste better and will contain fewer processed ingredients. Your body will thank you.
6. Swim Laps in a Swim Spa
Swim spas aren't just great for relaxation but they can also help you stay in (or get into) shape. Before eating dinner, jump into your swim spa for some laps against the jets for resistance. This is a great way to work up an appetite.
Many people enjoy swimming as it's easy on their joints, releases endorphins or feel-good chemicals, and is a total body workout. This type of cardiovascular activity can even reduce your chances of getting diabetes or heart disease later in life.
Check out our blog post "Top 6 Health Benefits of Using a Hot Tub" for more insight into how a hot tub or swim spa can improve your fitness.
7. Watch Your Favourite Movie
There's just something so wonderful about watching that movie you've seen (and adored) a million times. Whether it makes you laugh or cry, sitting back and watching your favourite movie is a great form of self-care.
Some feel-good movies we recommend are Forgetting Sarah Marshall, Little Miss Sunshine, Chef, The Pursuit of Happyness, Grease, and The Princess Bride.
Elevate your solo cinematic experience by whipping up your favourite dinner, like spaghetti, before playing the movie on your big screen.
8. Spend Time with Family or Friends
Hanging out with your closest friends and family members is a wonderful way to relax and have a few laughs. Text your friends and have them meet you at a nearby park, at the mall, or in your backyard for a quick soak in your Jacuzzi® Hot Tub.
Staying connected and spending time with the people you love works wonders for your mental and emotional well-being. This is a great way to learn positive coping mechanisms when you're stressed instead of discovering unhealthy ones.
9. Listen to Music
Who would have thought that simply listening to music could elevate your mood, reduce blood pressure, improve blood flow, diminish anxiety, and ease the pain? We sure wouldn't have! All you need to do to gain these health benefits is put on your favourite playlist and soak up the sounds.
Elevate the experience by listening to music in your hot tub or swim spa, close your eyes, and let the music resurface happy memories and feelings. Some experts suggest that classical music is optimal for self-care and improving focus.
10. Stretch in Your Hot Tub
Stretching is a wonderful way to alleviate aches and pains while removing the tension stored in your muscles. If you neglect to stretch on a regular basis, you might feel sore and experience headaches from the build-up of tension caused by injury or stress.
Click here for some basic stretching and yoga exercises that you can perform from your hot tub. For more information about the connection between hot tub hydrotherapy and stress relief, watch this helpful video!
11. Order Delivery and Have an Outdoor Picnic
Never underestimate the healing powers of sushi delivered straight to your door. Ordering food from a meal delivery service and then enjoying it while surrounded by the great outdoors is one of life's simplest pleasures.
Take this self-care activity a step further by taking your food and a picnic blanket to the local park for a solo picnic or to the beach while the sun sets. If you don't love spending time on your own, invite one of your best friends or a family member.
12. Try a Virtual Meditation Class
Meditating is a wonderful way to clear your mind and remove all of the negative thoughts and worries that linger in your head.
Since the start of the pandemic, many fitness and meditation classes switched to an online model, which means that it's incredibly easy to find a free guided class on YouTube.
Regular meditation can increase your self-awareness, increase creativity, and help you focus on the present.
13. Drink Tea and Write Down Your Thoughts
Journaling is a great way to sort your thoughts, set and achieve goals, boost creativity and memory, and even relieve stress. Each night before bed, brew a cup of your favorite decaffeinated tea and sit down at the table with your journal.
Be sure to record what you did that day, the thoughts at the forefront of your mind, and what you're grateful for. If you have some goals that you are wanting to achieve, jot those down as well. Manifesting your personal goals will keep you motivated.
14. Spend Time with Your Dog
Animals hold the powerful ability to increase your mood just by spending time with them. It's even suggested that cuddling a dog or cat can boost your feel-good chemicals and reduce stress.
If you don't have an animal of your own, kindly ask a friend or family member if you can borrow theirs for an hour or two.
15. Start a Puzzle
Tackling a challenging puzzle can be quite calming and exceedingly satisfying after you finish it. Doing a jigsaw puzzle can also help you improve your memory, problem-solving ability, productivity, and attention to detail. It's safe to say we could all benefit from doing a few puzzles here and there.
If puzzling seems a little too laidback for your liking, you can chip away at a jigsaw puzzle while listening to a podcast or music, or while watching television.
Reduce Your Stress with Help From Jacuzzi Hot Tubs of Calgary
If you found the information about reducing stress in this article helpful, check out our blog and online resource center for similar posts.
Our experts at Jacuzzi Hot Tubs of Calgary are always here to help, that's why we have a fully-loaded website, along with a variety of frequently asked questions.
If you're ready to take the plunge and find a hot tub or swim spa that suits your lifestyle, contact our professional team at Jacuzzi Hot Tubs of Calgary today.